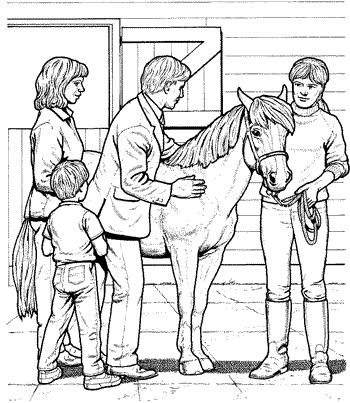 The objective of the NC 4-H Horse Steward Program is to train volunteer leaders to serve in a steward position. The steward position is a required position at NC 4-H Horse Program shows and events. Only a certified NC 4-H Horse Program Steward is eligible to serve in that role. The steward's position may be a paid position or an unpaid volunteer position. The steward's responsibility is to interpret the rules, regulations and guidelines to 4-H members, volunteer leaders, parents and show/event management. However, a steward has no authority in connection with the management or officiating of an event or show.
Applicants must:
Be a knowledgeable horseperson with a strong background in horse management, showing and training.
Be an approved adult NC 4-H Horse Program volunteer leader for at least 5 years.
Be knowledgeable of the NC 4-H Horse Program's rules and regulations.
Complete and submit an application requesting consideration.
Provide a letter of reference from their county extension 4-H agent verifying their eligibility.
Successfully complete the training program, including an open book exam.
Be certified by the NC 4-H Horse Program in Equine Measurement.
Specific steward duties include:
Interpret and clarify rules and advise on eligibility for a parrticular class or educational event. Show/event management is responsible for enforcing these rules.
Report to management any misrepresentation or substitution of entry without waiting for a formal protest.
Officially measure any horses/ponies that are questioned relative to size and class eligibility.
Report to show/event management any rule offense or violation. Show/event management is responsible for enforcing rules.
Serve as mediator between show exhibitors and the judge(s). Exhibitors may not speak to a judge concerning a class without permission from the steward. Judges are encouraged to help youth, but in no instance should judges be abused as a result of their placings. All exhibitors and parents should display good sportsmanship at all times.
Serve as a representative for the NC State 4-H Horse Program.
Current Stewards:
Additional contact information for our stewards can be found here.
Are you interested in becoming an approved NC 4-H Horse Program Steward? If so, print off the following application, complete and mail the application, and have your county 4-H agent send a letter of reference to our office. Direct all forms and letters to:
NC 4-H Horse Steward Program
NCSU Box 7621
Raleigh, NC 27695-7621