Youth Horse Judging, Hippology & Horse Bowl Training Clinic
 Youth Horse Judging, Hippology & Horse Bowl Training Clinic
January 14, 2017
DEADLINE FOR REGISTRATION IS JANUARY 3, 2017
Please note: Registration is limited by group (Cloverbud- 20, Beginner-60, Intermediate-40, Advanced-20).  Priority and preference will be given to NC 4-H and NC FFA members.  If space remains after January 3, other participants will be accepted on a first come-first serve basis.
NCSU- Riddick Hall
Click here for the draft schedule!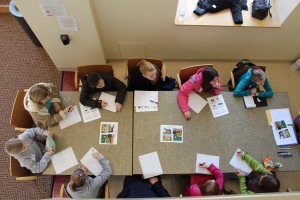 COURSE DESCRIPTION:
Youth and adults interested in learning how to excel as competitors and coaches in competitive 4-H, FFA and inter-collegiate horse judging contests are invited to attend the training session. Topics will include organizing and delivering oral reasons, formulating a judging system and effective use of terminology. The training session will use a variety of video horse judging classes as a model for training on class placing and oral reason training. The clinic participants are divided into four categories based on their experience level (cloverbud, beginner, intermediate, and advanced) and are then divided into break-out groups that allow for individual attention and hands-on, critical thinking activities.
The topics for our horse judging groups include judging Hunter in Hand (beginner), USEF Hunter Under Saddle (intermediate), and judging and scoring Ranch Riding (advanced). All experience levels will also develop oral reasons on their classes. Cloverbuds will learn parts of the horse, colors and markings and also learn how to judge halter classes.
An afternoon session for all individuals interested in expanding their knowledge for the Horse Bowl and Hippology contests will occur following the lunch break. We hold a mock Hippology contest where participants of all experience levels are able to take a Hippology exam, IDs, and stations in a constructive, learning-centered environment. Our Horse Bowl portion of the clinic involves randomized teams within experience levels playing each other in a "mock contest" format! Participants will learn about scoring, rules, and the type of questions to study for and expect in a real contest!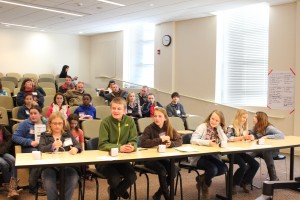 Our instructors for 2017 include Alaina Cross (NCSU Extension Associate – NC 4-H Horse Program), Lori Stroud (NCSU Extension Assistant – NC 4-H Horse Program), Taylor Knittel (NCSU Student Worker – Extension Horse Husbandry), and many former NC State Horse Bowl, Horse Judging, and Hippology team members! (Specific instructors to be announced.)
Phone: 919-515-5784
Fax: 919-515-8518
REGISTRATION: Please complete the online form found at this link:
2017 Clinic Online Registration Form
An email confirmation and invoice will be sent to the email address you submit on the form. Your registration will be considered complete once the invoice and fee(s) are mailed and received by Extension Horse Husbandry. Payment must be received by January 9, 2017.
In the event you are unable to complete the online form, please contact Lori Stroud (llstroud@ncsu.edu) for a paper version of the registration form.
FEE:
The fee is $10.00 per person (there is no charge for Cloverbuds, Coaches and Parents). Please print your invoice(s) and send the appropriate fees to: Extension Horse Husbandry, Youth Team Clinic, Box 7621 NCSU, Raleigh, NC 27695-7621.
Please make checks payable to NCSU.
LOCATION:
HOTEL ACCOMMODATIONS:
Wingate by Wyndham (PNC Arena/NCSU)- 6115 Corporate Ridge Rd, Raleigh, NC, 919-809-8660. There are 15 double rooms reserved at a rate of $77.00.  When calling in, ask for the NC 4-H Horse program rate.  The cut-off for this block of rooms is January 6, 2017.
Was the information on this page helpful?
Care to tell us why? Send Explanation