Horse Judging Short Course
October 28-29, 2017
2016 NCSU HORSE JUDGING SHORT COURSE SCHEDULE
HORSE JUDGING COURSE OFFERINGS COMPARISON– Please be sure to review this page to be sure you are registering for the correct course(s).
NCSU Main Campus
Raleigh, NC 27695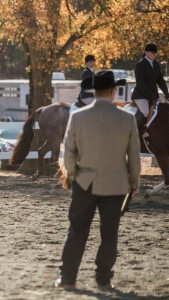 Course Description:
This short course is designed for individuals with limited horse show judging experience, coaches of youth judging teams, FFA instructors and all individuals interested in becoming judges or in attending the Open Horse Show Judge's Certification Clinic. Emphasis will be placed on teaching the judging systems appropriate for judging various classes in the western, hunt seat, saddleseat and non- trotting divisions. Participants will have a unique opportunity to interact one-on-one with experts to improve their judging expertise while learning the judging techniques taught at North Carolina State University, whose 4-H teams have earned numerous national and world judging contest championships. Participants will receive a judging manual and judge a variety of classes on videotape.  Participants will also receive in-depth instruction on the judging systems specifically designed to train intercollegiate and youth judging teams and horse show judges.
NCSU Introductory Level Judging Short Course 2017 Registration Form
Fee:
The fee for the two-day clinic is $90.00. Registration must be postmarked by October 5, 2017 to avoid a $30 late fee. Registration fees are refundable if requested in writing prior to the deadline date. Substitutions for pre-registered participants will be accepted after the deadline date.
Please remit a completed registration form and check payable to NCSU and mail along with the form to:
Extension Horse Husbandry
Equine Short Course Series
NCSU Box 7621
Raleigh, NC 27695-7621
Phone: 919-515-5784
Fax: 919-515-8518
Hotel Information:
15 rooms have been reserved under the block "NCSU Horse Judging Short Course" at the Wingate by Wyndham, NCSU/PNC Arena.  Reservations should be made prior to cut-off date October 7, 2016. The room rate is $77 per night, plus tax.  Call 866-578-5952 or 919-809-8660 and request the NCSU Horse Judging Short Course rate.
Comparison of the NCSU Introductory Horse Judging Short Course and the NCSU Open Horse Show Judges' Certification Clinic
Was the information on this page helpful?
Care to tell us why? Send Explanation