31st Annual
OPEN HORSE SHOW JUDGES' CERTIFICATION CLINIC
November 21-22, 2015
301 Riddick Hall
North Carolina State University
Raleigh, NC 27695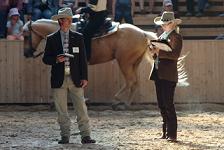 Presented by:
N.C. State University College of Agriculture and Life Sciences
N.C. Cooperative Extension Service
In Cooperation with:
N.C. 4-H Horse Program
Piedmont Horseman's Assoc.
Tarheel Horseman's Assoc.
Carolina Classic Horseman's Assoc.
Central Carolina Western Horsemen's Assoc.
Cape Fear Trail Riders Assoc.
Coastal Plains Horse Show Association
Border Belt Horseman's Assoc.
Plantation Pleasure Walking Horse Assoc. of N.C.
N.C. Hunter/Jumper Association
N.C. Quarter Horse Association
Cape Fear Trail Riders Association
Tennessee Walking Horse Breeders and Exhibitors Association
N.C. Arabian Horse Association
Seagates Saddle Club
New Hanover County Fair Horse Show Association
Four Beats For Pleasure Gaited Horse Club
Holiday Classic Open Horse Show Circuit
Open Horse Show Association
Ponies of America Approved Certification Clinic
Over 3,800 judges have participated in the clinic since 1986.
COURSE DESCRIPTION: Announcing the 31st Annual North Carolina Open Horse Show Judges' Certification Clinic on North Carolina State University's Main Campus in Raleigh, NC. This clinic is designed to provide individuals who are, or aspire to be, horse show judges with practical "hands on" experience in judging saddle seat, hunt seat, non trotting and western classes. Participating judges will have an opportunity to judge 20-26 conformation and performance classes, complete a required 50 question exam in each of the four divisions, and receive certification in these four divisions. A panel of breed recognized professional judges from across the nation will discuss the class placings and present lectures on judging procedures. Individuals completing the clinic will be included on a list of suggested horse show judges that will be annually revised and distributed to open horse show organizations located in North Carolina and surrounding states. Judges receiving an average score of 90% or higher per show division will be certified for that respective division. A minimum of 33% of participating judges will be certified in each division. Certification will be awarded separately for each division. A judging list will be forwarded upon request to breed associations for applicant judges and horse show organizations throughout the United States. Participation in the October 24-25, 2015 NCSU Horse Judging Short Course is highly recommended but not required for individuals new to the judging experience.
FEES: Advanced registration with $90.00 clinic fee is to be postmarked by October 31, 2015 for participating judges (19 years and older). This fee includes all instruction, certification examinations, and inclusion on the 2015 NC Open Horse Judges' Certification List, as desired. A $30 late fee will be assessed to judging participants registering after the deadline date. Judges' refunds will be honored if received in writing post-marked prior to October 31, 2015. A separate check must be provided for each participant.
Please remit a completed registration form and check made payable to NCSU and mail with completed registration form to:
Extension Horse Husbandry
Equine Short Course Series
NCSU Box 7621
Raleigh, NC 27695-7523
Phone: 919-515-5784
Fax: 919-515-8518
LOCATION:
NCSU – 301 Riddick Hall
MOTEL Information:
Red Roof Inn Raleigh (NCSU & Convention Center)
1813 S Saunders St., Raleigh, NC 27603(919) 833-6005
Call 1-800-RED-ROOF (1-800-733-7663)
and ask for the block codes listed below when making reservations.15, Non-Smoking, Double & King Rooms have been blocked at the following rates (not including taxes):Double                      King
1 Adult          $72.99                      $72.99
2 Adults         $72.99                      $72.99
3 Adults         $77.99                      N/A
4 Adults         $82.99                      N/A
There is an additional $1.50 Safe Fee, plus tax, per night. If safe is not used please advise the front desk at check out.
These rates will be available until September 23 for the Introductory Horse Judging Course (Block Code B256NCSU23) and October 20 (Block Code B256NCSU20) for the OHSJC.