Open Horse Show Judges' Certification Clinic
Find this page at:
go.ncsu.edu/readext?285877
Our current plan is to hold the 2021 Horse Judging Short Course and Open Horse Show Judges' Certification Clinic in person. However, we will not be able to confirm the dates and locations until the NCSU scheduling system opens for Fall events. Check back in mid-August for dates and registration information.
NCSU Open Horse Show Judges
Virtual Academy
Modules Featured:
Halter/Conformation – All disciplines
Western- Western Pleasure, Ranch Riding
Hunter- Equitation Over Fences, Stock Type & USEF Hunter Under Saddle
Saddle Seat- Hunter Pleasure, Western Pleasure, Country English Pleasure
Gaited- How to judge all types of gaited together
Academy Overview
This virtual academy is designed to provide the open horse show judge, or those studying to become an open horse show judge, with additional learning resources through a virtual platform through a variety of disciplines. Each section will have recorded lectures from a variety of experienced judges and instructors that you can view as many times as you desire. Each section will also have practice classes that you can place on your own, followed by an official placing and reasons for that placing. There are also additional quiz sections to test your knowledge of each section. No grades are assigned for the completion of this course; these quizzes are intended as an additional educational tool to help you retain the material.
Please keep in mind that this academy is a tool in your judging journey and the instructors and judges are offering specific ways to think about certain classes. If your opinion differs from those presented, that is perfectly fine. Horse judging is about opinions, as long as the rules are adhered to!
Our goal is to provide you with the following skills upon completion of the academy:
1. Understand the rules and regulations that govern each event presented.
2. Begin to create your own judging system of running a class, note-taking, and evaluating horses.
3. Know the penalties and disqualifications for events presented.
4. Understand which attributes will allow a horse to earn credit in a particular event.
The course will be open on November 11, 2020, and will remain open and accessible until October 25, 2021. These modules are for educational purposes only and will not result in certification or placement on the NCSU Open Horse Show Judges List.
Cost of registration: $50
Registration link for NCSU Open Horse Show Judges Virtual Academy
37th Annual
OPEN HORSE SHOW JUDGES' CERTIFICATION CLINIC
NC State University-Main Campus
301 Riddick Hall
2401 Stinson Drive
Raleigh, NC 27695
Map to Riddick for OHSJC & Introductory Horse Judging Short Course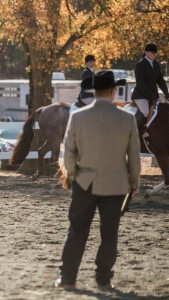 HORSE JUDGING COURSE OFFERINGS COMPARISON – Please be sure to review this page to be sure you are registering for the correct course(s).
Presented by:
NC State University College of Agriculture and Life Sciences
N.C. Cooperative Extension
In Cooperation with:
N.C. 4-H Horse Program
Piedmont Horseman's Assoc.
Tarheel Horseman's Assoc.
Carolina Classic Horseman's Assoc.
Central Carolina Western Horsemen's Assoc.
Cape Fear Trail Riders Assoc.
Coastal Plains Horse Show Association
Border Belt Horseman's Assoc.
Plantation Pleasure Walking Horse Assoc. of N.C.
N.C. Hunter/Jumper Association
N.C. Quarter Horse Association
Cape Fear Trail Riders Association
Tennessee Walking Horse Breeders and Exhibitors Association
N.C. Arabian Horse Association
Seagates Saddle Club
New Hanover County Fair Horse Show Association
Four Beats For Pleasure Gaited Horse Club
Holiday Classic Open Horse Show Circuit
Open Horse Show Association
Ponies of America Approved Certification Clinic
Over 3,800 judges have participated in the clinic since 1986.
Course Description:
Announcing the 36th Annual North Carolina Open Horse Show Judges' Certification Clinic on North Carolina State University's Main Campus in Raleigh, NC. This clinic is designed to provide individuals who are, or aspire to be, horse show judges with practical "hands-on" experience in judging saddle seat, hunt seat, non-trotting and western classes. Participating judges will have an opportunity to judge 20-27 conformation and performance classes, complete a required 20-25 question exam in each of the four divisions, and receive certification in these four divisions. A panel of breed recognized professional judges from across the nation will discuss the class placings and present lectures on judging procedures. Individuals completing the clinic will be included on a list of suggested horse show judges that will be annually revised and distributed to open horse show organizations located in North Carolina and surrounding states. Judges receiving an average score of 90% or higher per show division will be certified for that respective division. A minimum of 33% of participating judges will be certified in each division. Certification will be awarded separately for each division. A judging list will be forwarded upon request to breed associations for applicant judges and horse show organizations throughout the United States. Participation in the  NCSU Horse Judging Short Course is highly recommended but not required for individuals new to the judging experience.
Fees:
Advanced registration with $125.00 clinic fee is to be postmarked by October 31, 2019, for participating judges (19 years and older). This fee includes all instruction, certification examinations, and inclusion on the 2019 NC Open Horse Judges' Certification List, as desired. A $25 late fee will be assessed to judging participants registering after the deadline date. Judges' refunds will be honored if received in writing post-marked prior to October 31, 2019. A separate check must be provided for each participant.
OHSJC 2019 Registration Form
Please remit a completed registration form and check made payable to NCSU and mail with completed registration form to:
Extension Horse Husbandry
Equine Short Course Series
NCSU Box 7621
Raleigh, NC 27695-7621
Phone: 919-515-5784
Fax: 919-515-8518
Location:
NCSU – 301 Riddick Hall
Motel:
The Holiday Inn and Suites Raleigh/Cary have double and king rooms available for $89 per night plus tax. The booking code is SHJ if you call in, or you can use the online booking link provided below. The cut-off date for booking at this rate is November 15.
Holiday Inn Hotel and Suites Raleigh/Cary
5630 Dillard Drive
Cary, NC 2751
p: 919.851.1220 or 877.666.3243
f: 919.233.2963
Comparison of the NCSU Introductory Horse Judging Short Course and the NCSU Open Horse Show Judges' Certification Clinic