Horse Judging Contest
2020 NC State 4-H Horse Judging Contest
April TBD
Location: TBD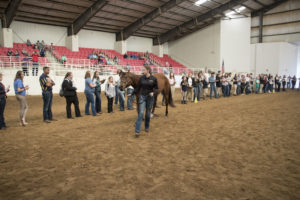 The Horse Judging Contest is designed to teach participants good conformation (structural correctness, balance, and muscling), breed character, and performance ideals in different breeds of horses. Additionally, the Horse Judging contest will teach participants how to evaluate horses based on knowledge and fact, make a decision, and defend it. The Contest will teach participants horsemanship terms that can be used in a logical, systematic way to defend placings and will help participants gain confidence in their ability and use of the English language by giving oral reasons to a judge while learning to speak clearly, decisively, and convincingly through the use of oral reasons.
2020 NC State 4-H Horse Judging Contest Entry Form- coming soon
2020 NC State 4-H Horse Judging Contest Schedule- coming soon
State Contest Motel Accommodations):
Eligibility
Any Junior or Senior 4-H member is eligible to participate in the 4-H horse-judging contest. Members are not eligible, however, to participate in a contest if by the date of the contest they will have competed or participated in a post-secondary judging program. Senior state winning judging team members who do not make or choose not to compete at Eastern Nationals, are eligible to participate again as a team member in that division while age eligible. Junior state winning team members may continue to compete on a county team in that division in future contests while age eligible. A Senior judging member who competes on a state-winning team is not eligible to compete again as a team member in that age division; however, a Junior or Senior high overall individual is eligible to return and compete on a team or as an individual in that age division.
Each county is eligible to enter any number of Junior or Senior teams of three or four members in the state contest. Additional participants may participate as individuals in the contest. A team must be composed of three or four members. When four members are used, the three members with the highest total score will be used in determining team awards. All participants in the contest will be eligible for individual awards or recognition. Individuals may compete as 4-H members (regular junior/senior; rookies are excluded) and FFA competitors. The youth will be required to register and pay an entry fee in both divisions and give the appropriate number of reasons in each division. The contestant's 4-H Oral Reasons scores will be used when calculating the FFA scores.
Senior teams will be composed of participants who have reached age 14 and have not reached age 19 as of January 1. Junior teams are composed of members who have not yet reached age 14 as of January 1.
Senior Rookie and Junior Rookie competitors are eligible only for overall top ten awards. Senior Rookie contestants are not eligible to try out for the state team to be considered for national contests.
Parents of 4-H members with specific medical needs during the contest must submit a written request to the Extension horse specialist prior to the contest.
The state team, which will represent North Carolina in regional and national competition, will be selected according to the following procedures:
Selection of team members will be restricted to the top Senior individuals at the North Carolina State 4-H Horse Judging Contest. The top ten individuals will receive an invitation to try out for the state team. After try outs, the top eight individuals will form two four‑member teams and will represent North Carolina at the Southern Regional Horse Judging Contest in August. The teams will be coached by the coach of the winning Senior county team at the State 4-H Horse Judging Contest and by the Extension horse specialist, who will oversee the travel arrangements.
The team representing North Carolina in the national contests will be selected by the Southern Regional team coach and the Extension horse specialist after the Southern Regional contest. The national team will consist of four members. Team members who actually participate in national competition will lose state eligibility. Individuals who judged at the Southern Regional Judging Contest but were not selected for the national team will be eligible to represent their county at future state horse judging contests. In addition to the Southern Regional contest, national team members will also judge at the Quarter Horse Congress and the Eastern National 4-H Horse Judging Contests. The team will also be eligible to compete in other contests, but the members must furnish their own transportation and travel money. The state office will assist in the acquisition of travel funds.
Regulations
While the contest is in progress, there will be no conferring between participants or between a participant and anyone else except as directed by the chairman or his representatives. Failure to abide by this regulation will result in disqualification of the participant. Participants may speak to their group leader if they have any questions or problems.
Each team or individual will pay a registration fee. The registration fee will be used to provide box lunches for all participants. Any entry form not completed in its entirety will be returned to the sender.
Eight to 10 classes, consisting of four individuals in each class, shall be judged. The horses in each class will be of the same breed, sex, and approximate age. The showman of each horse in each class shall wear a number for identification purposes. Classes will be selected from the following list. In addition, any available horse breeds could be used in halter or performance classes.
Halter
Performance
American Saddle Horse
Western Pleasure
Appaloosa
Hunter Hack
Arabian
Country English Pleasure
Hunter‑Type Horses or Ponies
English Pleasure
Morgan Horse
Reining
Paint Horse
Showmanship
Quarter Horse
Western Riding
Thoroughbred
Working Hunter Over Fences
Draft Horses or Ponies
Stock Seat Equitation (Western Horsemanship)
Walking Horses
Hunt Seat Equitation
Saddle Seat Equitation
Plantation Pleasure Walking Horse

Hunter Under Saddle

Ranch Riding
Participants will place a minimum of four halter classes and two performance classes. The additional classes will vary depending on availability.
Participants will provide oral reasons for their judging decisions as follows:
Participants who are Senior members will give four oral sets of reasons. Senior reasons will be given in at least two halter classes and one performance class. Senior Rookie contestants will give two sets of oral reasons; one halter and one performance.
Participants who are Junior members will give two sets of oral reasons. Senior members will give four sets of oral reasons. Junior Rookie contestants will give one set of oral reasons on a halter class.
Participants will be notified when the class is called if oral reasons will be given on the class being judged.
Reasons will be given orally to an official. Two minutes will be allowed for each participant to give his or her oral reasons. At least 15 minutes will be allowed between reasons for participants to organize and prepare their reasons.
SCORECARDS
Junior & Senior Oral Reasons Scorecard for State Contest
ROOKIE Oral Reasons Scorecard for State Contest
A maximum of 15 minutes will be allowed for participants to place all non-reasons halter classes. Halter classes in which oral reasons are to be given will be judged in a period of 17 minutes.
The participants will hand to the group leader or his assistant the card bearing his placing of the class as soon as time is up. This card will be given to each participant when he is called before the official judge to give his oral reasons. Participants will not be permitted to use notes when giving oral reasons but shall have the card upon which they recorded their placing. Rookie contestants are discouraged from using or directly reading their notes when delivering reasons. However, a contestant can earn as high as a 25 if notes are used (exclusively for Rookie division).
Fifty points shall constitute a perfect score in placing the animals, and 50 points shall constitute a perfect score for oral reasons. In classes where no reasons are required, only the placing will be considered. Ties will be broken by reasons scores. Teams or individuals with higher reasons scores will be placed above the other team or individual with which they were tied.
These officials will be used to make the official placing on each class. Official placings and reasons will be given on completion of the contest and reasons session.
Awards and Recognition
The final results of the contest will be announced and awards will be presented following the contest.
The top ten individuals in the Junior and Senior Divisions will be recognized.
The top six teams and coaches in each division will be recognized.
All contest tabulations will be declared official at the awards ceremony. If errors are found in the event tabulations within 24 hours from the award announcement, the youth who received the award incorrectly will return the award, which will then be awarded to the correct youth.
Please thoroughly read the Horse Judging Contest section in the NC 4-H Horse Program Rulebook (updated annually) for additional information on contest rules, regulations, potential classes, etc.
Additional training aids for the Horse Judging Contest are listed under Educational Materials. Please feel free to use these sources to help assist in training youth horse judging teams.