January 17, 2015
NCSU- Riddick Hall
Click here for the schedule!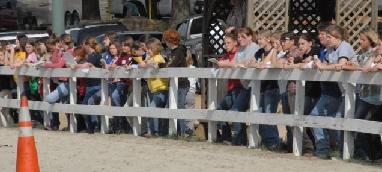 COURSE DESCRIPTION: Youth and adults interested in learning how to excel as competitors and coaches in competitive 4-H, FFA and inter-collegiate horse judging contests are invited to attend the 3.5 hour training session. Topics will include organizing and delivering oral reasons, formulating a judging system and effective use of terminology. The training session will use a variety of video horse judging classes as a model for training on class placing and oral reason training. An afternoon session for all individuals interested in expanding their knowledge for the Horse Bowl and Hippology contests will occur following the lunch break.
919-515-5784
Fax: 919-515-8518
REGISTRATION FORM: Please complete the online form found at this link:
https://docs.google.com/forms/d/1Tmf8i8kKvHLCXElmVKHgjT4l022fuDpjwaY7lGhl3c0/viewform
An email confirmation will be sent to the address you submit on the form.
FEE: We ask that participants have paid the 2015 Program Enrollment Form  or bring their completed forms and fee to the clinic. For FFA and non NC 4-H members, the fee is $10.00 per person.  Checks need to be made payable to NCSU and can be turned in the day of the clinic. Coaches are welcome to attend with youth, at no charge.
LOCATION: NCSU Riddick Hall
HOTEL ACCOMMODATIONS: There are a limited number of rooms reserved at the Ramada Inn Blue Ridge, 1520 Blue Ridge Rd, Raleigh, NC 27607 (919) 832-4100.   Ask for block code GC1501NCSTAT to receive a discounted rate of $79.00 per night plus tax.