Southern Regional 4-H Horse Championships
Southern Regional 4-H Horse Championships
IMPORTANT:     2018 Southern Regional 4-H Horse Show entries will close PROMPTLY AT 12:00 Noon at the State 4-H Horse Show Office on Sunday July 8, 2018. All entries must be submitted by this deadline and location. NO LATE ENTRIES WILL BE ACCEPTED BEYOND THE 12:00 Noon DEADLINE AND ENTRIES CANNOT BE MAILED TO THE EXTENSION HORSE HUSBANDRY OFFICE. All 4-H members, regardless of participation at the State Show, including points earned, are eligible and encouraged to enter the Southern Regional 4-H Horse Show and must do so by the 12 noon deadline whether they have or have not finished showing. Due to Southern Regional entry deadlines, state show staff must process and calculate the NC Southern Regional entries throughout the afternoon of Sunday July 8, 2018. Priority will be given to entries according to rules listed in the 4-H Horse Program Rules and Regulations Manual. If at the end of the show, the 4-H member no longer intends on showing at Southern Regionals or does not qualify, entries and checks will be returned. The Extension Horse Husbandry (EHH) office will forward all qualified entries to the host state by Tuesday July 10, 2018. EHH must be notified of any changes, scratches, or cancellations prior to 9:00 am on Tuesday July 10, 2018. All North Carolina Southern Regional delegation members will continue to receive the traditional NC 4-H Horse Program T-shirt at the event. Dependent on budget, additional horse-related items may also be provided to show exhibitors.
In addition to those exhibitors that are eligible to compete in the divisions offered at the State 4-H Horse Show, one spot is reserved in the Southern Regionals delegation for a 4-H member that would like to compete in the Roping events. For more information on these opportunities, please consult rule I-E.2.a. on page 17 in the Rules and Regulations Manual or call or email Lori Stroud at the Extension Horse Husbandry Office (llstroud@ncsu.edu or 919.515.5788).
2017 Southern Regional Website (schedule, rulebook, map, etc)
2018 Southern Regional NC Delegation Motel Information
The Travelodge in Perry has offered a special room rate for Southern Regional 4-H Horse Show exhibitors of $74.95 per night plus tax. They do not have a set number of rooms set aside, so please go ahead and make reservations if you think you will be attending. Move in day for exhibitors is August 1 and the show runs through Sunday, August 5.
Travelodge Perry GA
100 Westview Lane
I-75, Exit 135
Perry GA US 31069
Phone: (478) 987-7355
Hotel Website | Hotel Email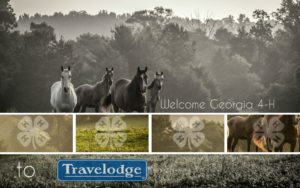 Was the information on this page helpful?