Hippology Contest
Find this page at:
go.ncsu.edu/readext?290987
March 27, 2021- Held in conjunction with the State Horsebowl Contest at NCSU, in Riddick Hall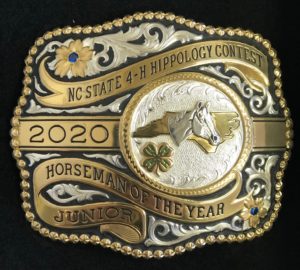 State Contest Motel Accommodations
Wingate by Wyndham State Arena Raleigh/Cary
6115 Corporate Ridge Rd, Raleigh, NC 27607
Phone : (919) 480-8693
Queen Rooms: $75
Forms and Schedule
2021 NC State Hippology Contest Online Entry Form  (must be completed by 3/16/21)
2021 Horsebowl & Hippology Contest Schedule
Map to Riddick contests 2021
Educational Event Donors Needed! If you would like to sponsor the hippology contest, please complete this form: NC State Educational Contest Sponsorships
Purpose
The purpose of the Hippology Contest is to provide participants with the opportunity to blend knowledge and skills acquired in horse judging, bowl, demonstrations, public speaking, and showing into one activity. Additionally, the Hippology Contest will encourage participants to continue expanding their horse knowledge and participation, recognize participants for their total involvement in the horse industry and their comprehensive knowledge of the horse industry, and teach good sportsmanship through a friendly and competitive environment.
Eligibility
Any 4-H member is eligible to participate in the 4-H Hippology Contest. Participants do not need to own a horse.
Each county is eligible to enter any number of Junior or Senior teams of four members in the state contest. The total individual scores for the three high team members will constitute the team score and be used in determining team awards. Individual entries will be accepted. All participants in the contest will be eligible for individual awards or recognition.
Senior and Junior members are also able to compete in a special Rookie division for first time Hippology competitors.
Cloverbud members (ages 5-7) will be able to compete in a special Cloverbud division. This will be a non-competitive event and all participants will receive recognition of participation. There is no cost to enter, but youth must be pre-registered on the contest entry form.
Senior teams will be composed of participants who have reached age 14 and have not reached age 19 as of January 1. Junior teams are composed of members who have not yet reached age 14 as of January 1.
Members of the champion team in the Junior or Senior (who were not selected to participate on the state team) divisions will be eligible to compete on future teams in that division as long as they meet the age and educational eligibility requirements. Members of the state team selected from the Senior Division and participating at the National 4-H Roundup or Quarter Horse Congress will be ineligible to participate as individuals or members on any future county hippology teams.
Each highest ranking overall Junior and Senior individual will be designated Horseman-of-the-Year. The winning Senior individual will be ineligible to compete in future North Carolina 4-H Hippology contests.
Suggested References
There are Hippology materials (Exams and Slide IDs) from past state contests available on the website. Exam questions are written from the approved references for each division. Additional resources that may be used in preparation for the contest are also found on the Educational Materials page on the website.
Please thoroughly read the Hippology Contest section in the NC 4-H Horse Program Official Rulebook (page 175-178) for additional information on contest rules, regulations, and procedures. NEW RULES FOR 2020 are HIGHLIGHTED YELLOW!