2019 NC State 4-H Hippology Contest
March 9, 2019- Held in conjunction with the State Horsebowl Contest at NCSU, in Riddick Hall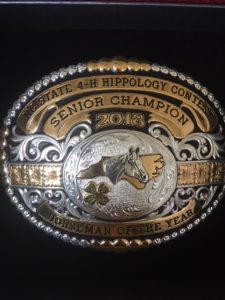 State Contest Motel Accommodations
Holiday Inn & Suites: Raleigh-Cary (I-40 @Walnut St)
5630 Dillard Drive
Cary, North Carolina 27518
Double Rooms Available for $84.00 per night (plus tax).
Forms and Schedule
2019 NC State Hippology Contest Online Entry Form  (must be completed by 2/20/19)
2019 Horsebowl & Hippology Contest Schedule
New for 2019- Rookie Division for Senior & Junior Individuals that are competing in Hippology for the first time!
2019 Map to Riddick and Park Shops for Horsebowl & Hippology
Purpose
The purpose of the Hippology Contest is to provide participants with the opportunity to blend knowledge and skills acquired in horse judging, bowl, demonstrations, public speaking, and showing into one activity. Additionally, the Hippology Contest will encourage participants to continue expanding their horse knowledge and participation, recognize participants for their total involvement in the horse industry and their comprehensive knowledge of the horse industry and teach good sportsmanship through a friendly and competitive environment.
Eligibility
Any 4-H member is eligible to participate in the 4-H Hippology Contest. Participants do not need to own a horse.
Each county is eligible to enter any number of Junior or Senior teams of four members in the state contest. The total individual scores for the three high team members will constitute the team score and be used in determining team awards. Individual entries will be accepted. All participants in the contest will be eligible for individual awards or recognition.
Senior and Junior members are also able to compete in a special Rookie division for first time Hippology competitors.
Cloverbud members (ages 5-7) will be able to compete in a special Cloverbud division. This will be a non-competitive event and all participants will receive recognition of participation. There is no cost to enter, but youth must be pre-registered on the contest entry form.
Senior teams will be composed of participants who have reached age 14 and have not reached age 19 as of January 1. Junior teams are composed of members who have not yet reached age 14 as of January 1.
Members of the champion team in the Junior or Senior (who were not selected to participate on the state team) divisions will be eligible to compete on future teams in that division as long as they meet the age and educational eligibility requirements. Members of the state team selected from the Senior Division and participating at the National 4-H Roundup or Quarter Horse Congress will be ineligible to participate as individuals or members on any future county hippology teams.
Each highest ranking overall Junior and Senior individual will be designated Horseman-of-the-Year. The winning Senior individual will be ineligible to compete in future North Carolina 4-H Hippology contests.
Regulations
While the contest is in progress, there will be no conferring between participants or between a participant and anyone else except as directed by the chairman or his representatives. Failure to abide by this regulation will result in disqualification of the participant. Participants may speak to their group leader if they have any questions or problems.
Judging Portion: There will be four (4) classes in the contest. The classes will be at the discretion of the officials and may include halter and performance classes. The horses in each class will be of the same breed, sex, and approximate age. The showman of each horse shall wear a number for identification purposes. Classes will be selected from the list in the Judging Contest rules (Item VI-F.3.c.). In addition, any available light horse breeds could be used in halter or performance classes. Fifty points shall constitute a perfect score. Judges will be used to make the official placing on each class. Official placings and reasons will be given on completion of the contest.
Rookie contestants will judge two (2) classes; one halter and one performance. 
Visual Identification Portion: Participants will visually identify items such as: breeds, colors, parasites, anatomy, color patterns, horse activities, tack, feedstuffs, and horse-related equipment. Each age division will identify 25 to 50 different items worth a total of 100 points. These Identification items may be in the form of projected slides. In the event actual items are used, participants will not be permitted to touch the items during inspection.
Junior Rookie contestants will have 20 identification items and senior rookie contestants will have 40 identification items.
Written Exam Portion: A written exam shall be given separately to Juniors and Seniors. Questions will consist of horse nutrition, health, breeding, management, genetics, horsemanship, and North Carolina 4-H Horse Program rules and regulations. The exam will be worth 200 points.
Junior Rookie contestants will have 25 exam questions and senior rookie contestants will have 50 exam questions.
Team Problem Portion:  Team problems are for Senior teams only. All teams will be presented with the same problem(s). Each team's members will have equal time to discuss among themselves the problem, immediately after which they will have to present a written solution or series of suggested procedures relative to the problem. Each member of each team is encouraged to contribute to the written presentation. Evaluation will be based on the understanding of the problem and completeness of the logic used in making the written response. Participants will be given 5 minutes to prepare their answer and 10 minutes to write up their answer. The team problem will be worth 200 points.
Scoring: Total individual scores will consist of combined scores from the horse judging classes (200 points), visual identification (100 points), written exams (200 points). Ties will be broken according to the following priorities:
Tie in Exam/ID:  Higher Exam Score is TB#1; Higher ID Score is TB #2
Tie in Horse Judging: Higher Overall Score is TB#1; Higher combined Exam/ID Score is TB#2; Higher Exam/ID Score plus Halter Classes Total is TB#3
Tie in Overall: All ties overall, individual and team, will be broken using the following sequence: 1. Examination scores 2. ID scores 3. Judging scores
Awards and Recognition
The top 10 Junior and Senior Division individuals in the overall standings, and the top ten Junior and Senior individuals in the judging and exam-visual identification portion of the contest will receive ribbons. The high-scoring individuals in each of the three categories will receive an award. The top six overall Junior and Senior Division teams will receive ribbons. The winning team members in each division will receive awards.
The highest scoring overall Junior and Senior individuals will each be named the 4-H Horseman-of-the-Year in their respective age categories and will receive appropriate awards. The reserve champion Junior and Senior Division individuals will also receive appropriate awards.
State Team Selection
Representation: An All-Star team composed of the high-scoring Senior individuals from the Senior Division will be tested to determine the state team and will represent North Carolina in national and regional competitions. In the event a high Senior Hippology individual also is a high individual in the State Judging Contest or Horse Bowl Contest within the same year, that individual will have one week after completion of the State Horse Judging Contest to declare the event(s) in which he or she wishes to represent North Carolina at national contests. The state Extension specialist will designate the next high-ranking individuals in the other contest(s) to represent North Carolina at nationals.
Expenses: The state is not responsible for providing expense money or transportation to the national contest but will attempt to assist.
Coach: The coach of the high-scoring Senior team will be designated the coach of the state 4-H Hippology team.
Special Assistant Coach: If appointed by the state board, a special assistant coach will accomplish the following:
Orient the coach to national rules and event procedures.
Assist in the training, transportation, and management of both Hippology teams in national competition.
Identify and secure funding before the State 4-H Hippology Contest, and assist the Hippology team coach, county agents, and team members with fund-raising projects.
Suggested References
There are Hippology materials (Exams and Slide IDs) from past state contests available on the website. Exam questions are written from the approved references for each division. Additional resources that may be used in preparation for the contest are also found on the Educational Materials page on the website.
For additional information consult the N.C. 4-H Awards Handbook: http://www.nc4h.org/youth/4-h-awards-incentives-programs
Please thoroughly read the Hippology Contest section in the NC 4-H Horse Program Official Rulebook (updated annually) for additional information on contest rules, regulations, order of play, etc.