Horse Painting Contest
Find this page at:
go.ncsu.edu/readext?285400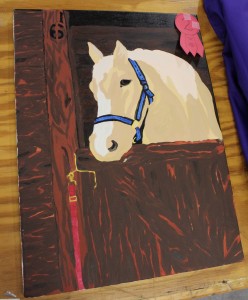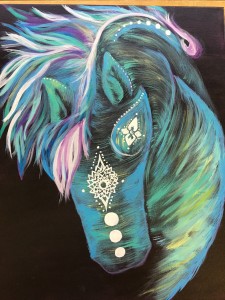 The Horse Painting Contest will encourage the 4-H member to apply artistic talent within the Horse and Pony Project, increase knowledge and skill in equine-related painting and learn the value of developing visual exhibits in areas of specific interest.
Only one entry per participant is permitted per contest category. Each exhibit must be the original works of the participant that has been completed since the previous year's contest and that relates to the Horse and Pony Project. This contest is open to Cloverbuds and Junior and Senior 4-H'ers.
Please thoroughly read the Horse Painting Contest section in the NC 4-H Horse Program Rulebook (pages 179-193) for additional information on contest rules, regulations, submission procedures, etc.
Due to the cancellation of the 2020 NC State 4-H Horse Show, the entry and project submission process has been altered to make contest entry submission completely electronic.
Projects must be digitally submitted no later than 11:59 p.m., July 1, 2020. There is no entry fee for any division.
The sewing contest is temporarily suspended this year due to the nature of evaluation, we feel that we evaluate this division well via virtual submission.
Please be sure to consult the modified rules referenced below.
2020 Artistic Expression Modified Virtual Rules
HOW TO ENTER & SUBMIT PROJECTS
Complete the Google Entry form (there is no entry fee): https://forms.gle/eyQ6iaXvrWxWLA448
How to submit Projects (due date for digital uploads is July 1, 2020):
Please email your photos of your project(s) to nc4hhorseprogram@ncsu.edu using "NC 4-H Artistic Expression Entry" as your subject. Include the following entry information with your email:
Name of 4-H'er
4-H County
Entry Division: Cloverbud (Ages 5-7), Junior Division (Ages 8-13) OR Senior Division (Ages 14-18)
Category: Drawing, Painting, Craft, Poster, Photography, Digitally Enhanced Photography
Picture File Naming: Submit everything as a JPEG or PNG file
Save file as: "Last Name, First Name, Age Division Contest" – Example "Stroud, Landon, Cloverbud Painting"