NC 4-H Horsemanship Camp
June 11-16, 2017
Improve your horsemanship skills while having fun with other 4-H'ers. A highly qualified camp staff will introduce the beginning rider to the basics of horsemanship while advanced riders can learn new and better horsemanship skills and showing techniques.
Special features of the camp include educational lectures, riding lessons, showmanship, judging contests, trail rides and training demonstrations. Instruction will be given in hunt seat, western and gaming styles, with additional instruction in dressage, non-trotting or eventing if enough interest exists. Campers must supply his/her own horse, equipment, feed, and transportation.  The camp will provide sawdust for the stalls.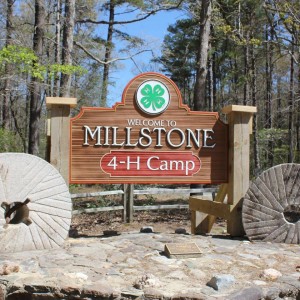 The North Carolina 4-H Horsemanship Camp is held in June of each year at Millstone 4-H Camp. This rustic camp is located in Richmond County near the town of Ellerbe.
2016 Camp Costs
Registration Fee – $420 (includes $50 deposit) Link to Millstone site for registration form: http://www.millstone4hcamp.com/registration.html
UPDATE May 18, 2016: We have met our maximum number of female campers and camp registration for female campers is now closed. We will be accepting male camper registrations until June 1.
Once the registration form and deposit have been completed and submitted, registered campers will be contact by Extension Equine Husbandry to provide additional Horsemanship Camp paperwork.
Listed below is the link to the 4-H Horsemanship Camp Manual. Please consult this document for additional information and bring a copy to Camp!
2016 NC 4-H Horsemanship Camp Manual
Please note all applicants for Junior Leader positions must be 16 years of age or older and have attended horsemanship camp at least once. The camper fee for Junior Leaders is $250.00
2016 Horsemanship Camp Junior Leader Application– Deadline extended to April 30!
ALL horses are required to have a Negative Coggins Test for EIA dated April 1st, 2016 or later. No exceptions will be made!
Millstone is hosting an open house on May 15 from 1:30-4:30.  See the event flyer for more details.
2016 NC 4-H Horsemanship Camp Staff
Horsemanship Camp Director
Samantha Taylor
Samantha Barham Taylor is 34 years old and is married to Brian Taylor and is the mother of Addison and Shelby. Sam, as some call her for short, grew up in the N.C. 4-H Program.  She was a member of the Young Riders 4-H Club of Union County. She began 4-H at 9 years old, taking her horse Peppermint Patty to district and state that year. Later, Sam received a gift at Christmas. My Winter Sensation, Rocky was his barn name. Rocky was just a few years old and a lanky Thoroughbred with some health issues, but Sam loved him, trained him and eventually he was the Senior State Champion in the hunter division. Rocky and Sam definitely became a team and man could he do some showmanship!!!! Unfortunately, Sam lost him just a little over a year ago, but what a legacy he had.
Sam was very successful in all areas of 4-H but especially with horse judging. She made the N.C. State 4-H Judging team and competed  at Southern Regionals, Quarter Horse Congress, 4-H Nationals and Quarter Horse Youth Worlds.
Sam also attended 4-H Millstone Camp as a camper, junior leader and recently the hunter instructor.
After High School, Sam attended CPCC and began working with several animal related jobs. She worked as a vet tech for Indian Trail Animal Hospital, where she met her future sister in law.
Sam moved to Kentucky for a few years to marry and live with her husband. She continued her career path at the time as a small animal vet tech. Soon, she became a mother to Addison and Shelby.
In 2014, Sam, Brian and the girls relocated in North Carolina. Presently, she is a very active leader, residing on both district and state advisory boards.
Samantha works very hard with the family business, Brandywine Stables, located in Midland, N.C. just outside of Charlotte. There, she helps with the boarding, training and lesson program.
She is looking forward to helping to make the best better at Millstone 4-H Camp this year.
Horsemanship Camp Instructors
Shannon Hoffman grew up riding english and showing hunters in Virginia and later moved to Quarter Horses and worked up to national level shows and has been an NC Certified Open Horse Show Judge for over 15 years .  She enjoyed specializing in the all-around competitions and placed in the top ten at the All American Quarter Horse Congress in amateur western riding in 1993.  Shannon currently enjoys specializing in working with mules and saddle donkeys for trail riding and obstacle work.  She believes in developing a handy well-rounded equine partner that can be used for any job, but she particularly loves horsemanship, trail obstacle, trail riding, the ranch division classes, and western dressage. This will be her fourth year as an instructor as a camp instructor.
Brooke Maiello has lived her entire life in NC and surrounded by horses. She is a third generation horseman, who grew up with parents that were 4-H leaders and she herself won multiple State 4-H championship classes. Her background is showing in the all-around classes. Currently she lives in Sanford NC, on a small farm with her husband PJ and daughter Montgomery. She is an active member of the Moore County Hounds and enjoys her family showing at local shows.
Wayne Moore is a retired middle school math teacher.  For the past 25 years he has operated Foxmoore Farm in Clinton NC.  Wayne boards horses and teaches hunt seat riding lessons.  Many district and state championships have been earned by Wayne's riders.  Wayne has fox hunted with The Moore County Hounds for 35 years and his riding students also foxhunt with Moore County.  He has been very active in the 4-H horse program in all aspects. He has been on leadership committees and has taught the advanced riders at horse camp for 15 years.  Currently holding a North Carolina Open Horse Show judging certificate, Wayne judges numerous horse shows during the year.  Horse camp is one of his passions as it teaches students new skills and reinforces skills with knowledgeable adults.  Camp also gives young people the chance to make new friends.  He looks forward to another great year at camp.
Sarah Pack is from the NC Sandhills and the heart of horse country. She has been heavily involved in 4-H for nearly all of her life, including horse showing and competing in the knowledge contests for many years.  She has won state, regional, national, and world championship titles in hunters, dressage, combined training, horse bowl, hippology, and horse judging. After aging out of 4-H, Sarah became a volunteer leader for the Kickin' Tails 4-H club, and went on to continue her riding education at Virginia Intermont College, where she competed on both the IDA and IHSA teams, and continued showing locally in dressage, jumpers, and eventing with her thoroughbred. Upon graduating college, she was hired on as a riding instructor at Ridge Haven Farm, where she focused on teaching proper classical equitation to hunter, jumper, and dressage riders of all levels. Sarah now manages her own program, Stormhaven Equestrian, which caters to amateur hunter, jumper, and dressage riders. She focuses on classical equitation, and bases her program on using dressage principles and fitness training to develop confident equestrian athletes. After participating in Millstone's Horsemanship camp as a camper, junior leader, and adult leader, Sarah is excited to join the campers once again as an instructor.
Please direct all equine related questions to:
Alaina Cross- amparson@ncsu.edu
Extension Horse Husbandry
North Carolina State University, Box 7621
Raleigh, N.C. 27695
(919) 515-5784
Was the information on this page helpful?
Care to tell us why? Send Explanation