NC 4-H'ers Successful at Southern Regional 4-H Horse Championships
Southern Regionals was held in Perry, Georgia and was hosted by Florida. There were over 400 exhibitors from 12 different states. The show ran from July 29-August 2, 2015 and NC 4-H riders were very competitive. Congratulations to all exhibitors! The results are as follows:
Stephanie Baker and Worthy of Light – 10th Hunt Seat Equitation, 5th Working Hunter
Hannah Barringer and Estrellita de Oro – 7th Gaited Mares, 4th Saddle Seat/Gaited Showmanship, 10th Gaited Pleasure (Other Breeds)
Micah Furr and Natasha de la Piedra – 3rd Gaited Mares, 2nd Saddle Seat/Gaited Showmanship, 8th Gaited Equitation

Kenley Batts and Top Notch Peek a Boo – 3rd Pony Working Hunter

Cassie Brown and Neutanzer – 1st Hunter Type Geldings

Katelen Browning and Doc – 9th Saddle Seat/Gaited Showmanship, 10th Gaited Equitation
Becky Campbell and Hugh – 7th Hunter Type Geldings, 2nd Hunter Under Saddle, 4th Hunt Seat Equitation, 7th Open Jumping

Reva Dandrow and Free N Easy – 6th Pony Working Hunter

Lisa Dickerson and Coosas Sonny Glow – 6th Hunt Seat Equitation
Laura Dickerson and LB Lena Royal – 5th Hunt Seat Equitation, 3rd Training Level Test 3, 10th First Level Test 2

Laura Dickerson and Honey Nutt Chex – 10th Western Horsemanship

Cheyenne Gardner and DiCaprio – 10th Training Level Test 3

Kaitlyn Johnson and Teddy Is Smooth – 6th Hunter Type Geldings, 8th Hunt Seat Equitation
Kaitlyn Johnson and Wynnbrook April Frost – 1st Hunter Type Mares, 6th Hunter Under Saddle

Jessica Keyser and Better Than a Boyfriend – 10th Working Hunter, 9th Equitation Over Fences
Samantha Jo Long and Miss Lilly Boom Bay – 8th Reining
Austin Martin and Caught In A Flash – 9th Hunter Type Geldings

Delaney McArdle and Billy – 10th Equitation Over Fences

Bailie Tew and Hez Too Flashy – 4th Stock Type Geldings

Shelby Unks and TOA Shahqira – 1st Saddle Type Mares (Trotting), 1st Saddle Seat Pleasure, 1st Saddle Seat Equitation
Danny Wallace and Roxy's Little Ritzy Girl – 1st Stake Race

Bailey Williams and Abracadabra – 7th Hunter Under Saddle, 9th Hunt Seat Equitation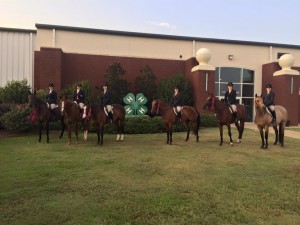 Was the information on this page helpful?
This page can also be accessed from:
go.ncsu.edu/readext?371304