June 14-20, 2015
Improve your horsemanship skills while having fun with other 4-H'ers. A highly qualified camp staff will introduce the beginning rider to the basics of horsemanship while advanced riders can learn new and better horsemanship skills and showing techniques.
Special features of the camp include educational lectures, riding lessons, showmanship, judging contests, trail rides and training demonstrations. Instruction will be given in hunt seat and western styles, with additional instruction in dressage, non-trotting or gaming if enough interest exists. Campers must supply his/her own horse, equipment, feed, and transportation.  The camp will provide sawdust for the stalls.
Campers must be approved through 4-H Horse Husbandry before registering for this camp.
The North Carolina 4-H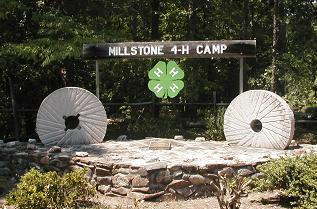 Horsemanship Camp is held in June of each year at Millstone 4-H Camp. This rustic camp is located in Richmond County near the town of Ellerbe.
2014 Camp Costs
Registration Fee – $420  – Camp Registration Form
Fee includes a $150 non-refundable deposit. Incomplete applications will not be processed.
Listed below is the link to the 4-H Horsemanship Camp Manual. Please consult this document for additional information and bring a copy to Camp!
4-H Horsemanship Camp Applications
4-H Horsemanship Camp Required Forms
The following forms MUST be filled out and brought to camp:
ALL horses are required to have a Negative Coggins Test for EIA dated April 1st, 2014 or later.
No exceptions will be made!
Please direct all equine related questions to:
Extension Horse Husbandry
North Carolina State University, Box 7621
Raleigh, N.C. 27695
(919) 515-5784